For years now, MongoDB has been the go-to NoSQL database for both individuals and enterprises building large-scale applications. It's open source, easily scalable, and provides high availability. It also supports very complex queries and fine-grained concurrency control.
In recent years, the database industry has undergone a number of changes, resulting in an increased shift towards a database as a service (DBaas) model versus an on-premise infrastructure. Databases are at the core of most business apps, and cloud-based DBaaS services offers users a flexible, scalable, and on-demand platform that eliminates the need to set up costly physical hardware, install software, or configure for performance. In addition, the data companies are analyzing is also changing. Users and developers now look for more adaptable databases that allow them to access and work with unstructured data. Along with this has come a greater demand for in-memory and NoSQL databases with a pay-per-use model.
MongoDB, the company behind the open source database, sought to fill this need with Atlas, its own DBaaS offering that provides users with a managed database service. The service offers pay-as-you go pricing and allows users to deploy on the cloud service provider of their choice (AWS, Azure, and GCP). Atlas has been a success for MongoDB, and as of 2019 accounts for 35% of its total revenue with over 12,000 customers.
1 -Creating a Cluster
2 - Create a MongoDB User , IP address and Connect to app
3 - Creating Data Base
Click on Collection you will see screen below-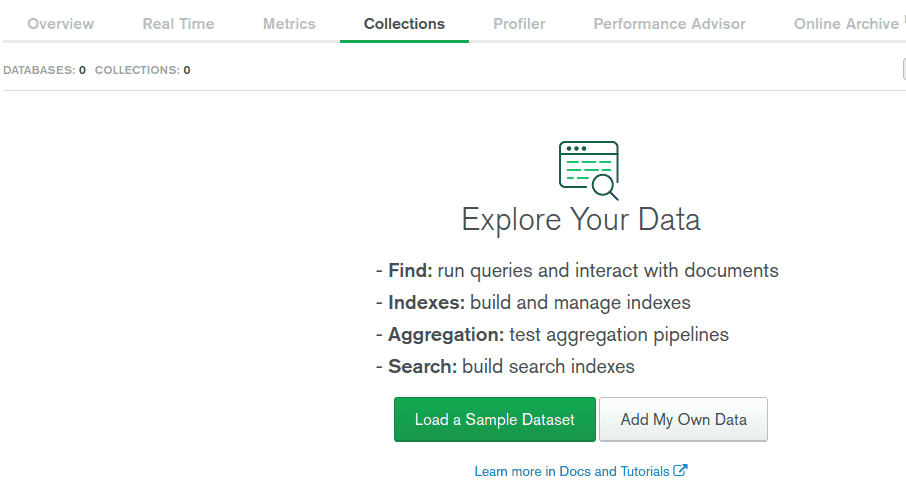 4 - Now Connecting with Jupyter Notebook
pip

 install pymongo




On terminal type command given above
5 - Now Copy Link we have-
6 - Insert New Data in your Cluster
7 - Summary
Overall, we found MongoDB Atlas to be easy to use and get acclimated to. The process of registering for an account, deploying your first cluster, and connecting to your cluster was seamless thanks in large part to its intuitive interface. In particular, we liked that Atlas included sample data that we were able to load into our cluster and then utilize the Data Explorer GUI to interact with the data.
Its simple user interface, along with its host of features including scalability with automatic sharding, built-in automation mechanisms for operational tasks, and excellent performance that provides high throughput and low latency even for the most demanding workloads, and it's no wonder that experienced developers and new users alike have grown to love MongoDB Atlas.